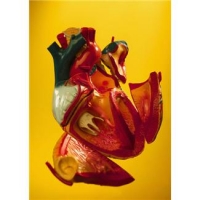 Anatomy Models available at the C.O.D. Library Circulation Desk

Bones/Skulls/Torsos

1 deluxe 24-part dual-sex torso
2 muscular figure (30 parts)
1 mini-torso
1 male skeleton, sacral mount
1 female skeleton, sacral mount
2 sets: upper and lower half disarticulated skeletons (natural bone)
5 sets: upper and lower half disarticulated skeleton (plastic);
4 include skulls
10 whole skulls (5 plastic, 5 real bone)
1 flexible spine with occipital bone and pelvis
1 male and female pelves
2 median cut skulls
3 disarticulated skulls (plastic)
1 foot skeleton, elastic-mounted
1 hand skeleton, elastic-mounted
3 bullfrog skeletons
2 cat skeletons
3-Dimensional Free-Standing Models

7 left-arm muscle models
6 left-leg muscle models
1 deluxe vascular arm
1 striated muscle fiber with motor end plate
1 deluxe flexible knee (articulating cartilage of the knee)
2 brain models with arteries
2 life-size two-part brain models
1 brain ventricles model
2 right half head and neck musculature
1 seven-piece vertebrae collection
1 cartilages of the larynx model
1 human larynx and tongue model
2 larynx, trachea, bronchi model
1 lung microstructure model
2 giant three-part ear
1 small ear model
1 inner ear model (large)
2 giant eye in bony orbit
1 half eye model
1 five-part eyeball
2 kidney models
2 liver and gallbladder models
2 pancreas with spleen and part of duodenum
1 stomach model
3 Heart of America models
2 heart models (small)
2 skin models
1 bone model
1 neuron model
1 synapse model
Dental Models

1 advanced half lower jaw with 8 additional diseased teeth
1 dental study model-adult mouth
1 dental study model- primary individual teeth
1 dental study model-primary mouth
1 human upper & lower jaw
1 mixed dentition dental model
1 primary dentition dental model
1 space maintenance dental model
1 teeth: common pathologies
Tray Type Models (Hubbard)

3 digestive system models
1 circulatory system model
2 endocrine system model
3 urinary system models
3 respiratory system models
1 nervous system model
2 ear model
2 eye model
1 frog model
3 female reproductive system model
3 male reproductive system model
2 cell to embryo models
1 human skin model
Plaque-Type Display Models

1 Median section of brain (head)
2 Bloody Bill (circulatory system)
2 Nervous Ned (nervous system)
1 Lymphatic Larry (lymphatic system)
1 Spinal Sally (spinal cord in the spinal canal)
2 kidney, nephron, and glomerulus set
2 deluxe spinal cord (upper thoracic - Sectioned both longitudinally and in cross section)
1 urinary organ model
1 death of a lung (smoking) model



Models must be returned put together.
Do not mix contents of boxes of different bone sets.
The Library does not have a duplicate set of all of the models available in the Anatomy & Physiology labs. We try to add to the collection annually, but not every A&P lab model is available or affordable.