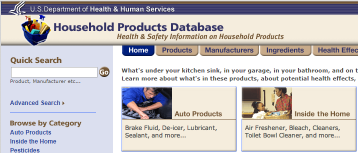 Do you have students in your classes worried about the presence of sodium laureth sulfate in their shampoos? How about students who know that they're nervous about commercial cleaners but can't explain why?
Send them to the Household Products Database, a free database created by the federal government that breaks down personal care, household cleaning, pesticides, and other products that we can easily buy at the store. Students can search by type of product (engine coolant) or by name (Aussie Awesome Volume Shampoo). Once a student selects a product, she can easily see information about the it, including health warnings, chemicals listed as ingredients, the MSDS sheet, and similar kinds of products.
The database could be used as the starting point for projects in biology, chemistry, or even basic health classes.