Trying to get your students interested in local environmental issues? Check out NOAA's Great Lakes Environmental Research Laboratory. The center provides "innovative research on the dynamic environments and ecosystems of the Great Lakes to provide information for resource use and management decisions that lead to safe and sustainable ecosystems, ecosystem services, and human communities."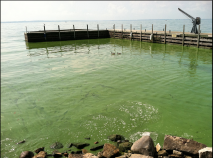 The website contains a wealth of information, including current ice coverage on the Great Lakes including charts and images, meteorological data, a database of invasive species, and the Great Lakes and health.
Image Credit: Algal bloom in Lake Erie, Kelley's Island. October 16, 2011. Photo: T. Joyce, NOAA GLERL.