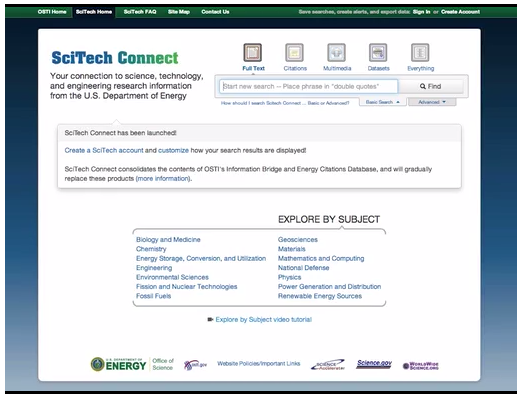 Physics, Engingeering, Geoscience, and Technology academics, take note!
The Department of Energy has created SciTechConnect to display publicly available reports, citations, articles, conference papers, books, multimedia, and data resulting from DOE funding.
The database is pretty massive: for example, a search of "Hydraulic Fracturing" turned up over 15,000 articles in full-text, an additional 12,000 citations, 5 datasets, and 1 youtube video of a conference presentation.
Want to customize search results, save citations and articles, and even save searches? Create a custom account.
As always, if you want to think about how to use this resource in a student assignment, or would like to think about integrating these materials in to your class, contact me.