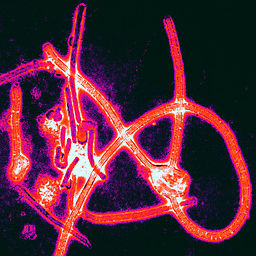 Trying to discuss the Ebola outbreak in Africa, or the confirmed case in Dallas with your students and looking for good sources? The National Library of Medicine has posted a guide to various good sources of information online.
While you're looking through the guide, pay particular attention to the following sources listed there:
The MedlinePlus page to get general information about Ebola, including videos, definitions and links to other websites.
The CDC official page describing what's happening in Africa and Texas.
The WHO page on Ebola in West Africa
The section of the page titled "Free Resources from Publishers for Medical Responders" which includes sources from the Lancet, Nature, Science, PLOS, and more.
Image Credit: Ebola Virus Particles, by Thomas W. Geisbert, Boston University School of Medicine [CC-BY-2.5 (http://creativecommons.org/licenses/by/2.5)], via Wikimedia Commons