March 24, 2015, Caregiver Support Group Summary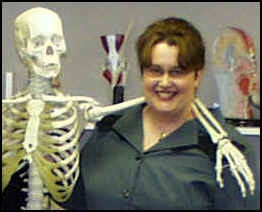 Submitted by Debra Smith on
Caregiver Support Group meetings are all about sharing issues/situations, asking for and giving supportive suggestions, exploring options and making connections. The topics, issues and suggestions below reflect the flow of conversation at a given meeting. We don't usually have a set agenda, and the items listed are based on the moderator/recorder's memory. If I've forgotten or incorrectly stated something, I encourage members to email me at smithkak@cod.edu or post a comment to this entry. ~Debra Smith, Health Science Librarian, Support Group Moderator
All links and mentions of the COD Library Caregiver Resource Guide refer to http://codlrc.org/HS/care
The group discussed and recommended:
Gathering and sharing email addresses so that members can contact one another between meetings and continue supporting one another individually or to the group as a whole
Having Debra create a summary of meetings documenting issues/topics raised and suggestions shared. Members recommended a blog format if possible so that members have the option of adding comments [DONE! If you're reading this, the blog is working!]
Adding a section to the caregiver guide that covers grief, loss, caring for the caregiver, hospice/end-of-life issues. Group members expressed the need to continue offering support to caregivers after the death of the care recipients. Grieving is an ongoing process and individuals deserve/need support whenever they need it whether it is right after a loss or year(s) later. [DONE! I've added a new section called "Hospice & Post-Caregiving (Including Grief & Loss)"]
Members reviewed some of the links and resources introduced/suggested during the first meeting utilizing the COD Library Caregiving Resource Guide. Debra navigated the site and showed members where new resources were added as well as updated the group on suggested resources that will be added to the Library's print collection.
Issue # 1 Driving, Driver's License/Plate Information, and What is the Best Way to "Take Away the Keys"
The subject of caregiving individuals and what to do when driving becomes a danger to the caregiving recipient or other people on the roads was brought up multiple times during the meeting in a variety of contexts.
Supporting previous meeting suggestions of getting support from "outside" resources, a member suggested contacting the DMV prior to bringing in an elderly care recipient for the required driver's license renewal test or somehow letting the DMV staff know that there was a concern about the individual's ability to safely drive a motor vehicle. The group thought it would be a good idea to try and take elderly individuals to DMV locations at non-busy times or to smaller, less crowded locations where there would be more time staff interaction and assistance. Hearing that it might be time to stop driving from a DMV employee supports the caregiver and helps prevent negativity between caregiver/care recipient
Another suggestion was to have the same type of interaction with healthcare providers so that caregivers have support when difficult life-changes need to occur
A member remembered that VA hospitals have a program that helps evaluate whether or not veterans can/should be driving. Researching after the meeting, I found this helpful online brochure that gives many tips, suggestions and support resources regarding evaluating the ability to drive (applicable to all individuals, not just veterans):
Driving & Dementia published by va.gov
Another member reminded the group of Illinois reduced license plate fees available for senior citizens and information on the program being found on the Secretary of State's Web site. The program used to be called the Circuit Breaker Program but is now known as the Benefit Access Program:
http://www.cyberdriveillinois.com/services/bap.html
Senior citizens and the disabled in Illinois can also qualify under the Benefit Access Program for free public transportation:
https://www.illinois.gov/aging/BenefitsAccess/Pages/default.aspx
Issue #2 Where to find good deals on medical supplies
During the February meeting, a member mentioned that amazon.com is a great resource because many different kinds of items can be ordered online and delivered to distant caregiver recipients in a timely manner. This session a member mentioned using allegromedical.com for medical supplies because they offered reasonable rates and good deals. The question is....where do YOU get the best deals on medical/caregiving supplies? Inquiring caregivers want to know!
Issue # 3 The difficulty "finding good help" to assist in the care of loved ones
Members shared the wide-range of professional assistance available. Frustrations over promises of great care from professional organizations and actually receiving poorly trained or unmotivated employees that delivered sub-par care were discussed. Stories of wonderful, compassionate professional caregivers were also told.
It is often very difficult to transition from being on equal footing with individuals to becoming their caregivers (difficult for caregivers AND care receivers!). This discomfort can make caregivers feel powerless or hesitant which can hinder them from being as proactive and definitive as they need to be when requesting and receiving "outside" (professional) assistance. A member shared an example of how to make a clear list of expectations, how to share it with providers, how to follow up by being present the first few times a provider comes and then make "drop in" checks unannounced to check up on care. Also important is to let providers know the consequences of the expectations not being met. If something is to be done, it should be done. If it is not, the provider will be let go. By being polite, clearly stating expectations and consequences, and firmly standing by these expectations (represented in writing as well as verbal agreement), service providers will soon realize that you (and those for whom you care) are not to be taken advantage of or given poor service.
As a follow-up, here is a copy/paste from a caregiver message I sent to workshop attendees this past December regarding the same topic:
For individuals interested in how to locate/screen/interview home care professionals: I'd like to give you this link as a good place to start thinking about the important characteristics/qualities of a care giver. Remember, each of us (and the individuals for whom we provide care) is a unique being and some questions/characteristics may be more or less important depending on individual needs.
http://www.elderlawanswers.com/12-interview-questions-to-ask-an-in-home-aide-9730
I share this link because the short article contains quality questions that can be easily adapted to different levels of care AND the links at the bottom for additional resources are useful too!
Issue # 4 Member Recommended Book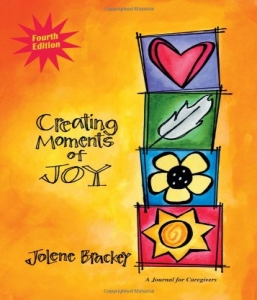 a member talked about giving a copy of this book to her mother, a primary caregiver, as a Christmas gift. The book was well received and describes the ways that caregivers and care recipients can find moments of beauty, love, and joy in otherwise stressful and difficult situations brought on by age, illness, or disease. It is called Creating Moments of Joy for the Person with Alzheimer's or Dementia: A Journal of Caregivers by Jolene Brackey (4th ed, 2008) ISBN-10: 1557534624 (available for $18.25 on Amazon.com). The book's description reads:
Jolene Brackey has a vision. A vision that will soon look beyond the challenges of Alzheimer's disease and focus more of our energy on creating moments of joy. When a person has short-term memory loss, his life is made up of moments. But if you think about it, our memory is made up of moments, too. We are not able to create a perfectly wonderful day with someone who has dementia, but it is absolutely attainable to create a perfectly wonderful moment; a moment that puts a smile on their face, a twinkle in their eye, or triggers a memory. Five minutes later, they won't remember what you did or said, but the feeling you left them with will linger.
Did I miss something? Do you have suggestions to add to our conversation? Please leave a comment below!