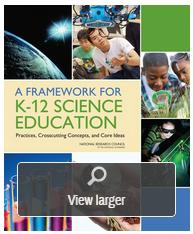 Want to check out the core standards for Science Education? The National Academies Press has issued A framework for K-12 science education: practices, crosscutting concepts, and core ideas, a free ebook. You can find the ebook in our catalog as well.
Here's the publisher description:
"Science, engineering, and technology permeate nearly every facet of modern life and hold the key to solving many of humanity's most pressing current and future challenges. The United States' position in the global economy is declining, in part because U.S. workers lack fundamental knowledge in these fields. To address the critical issues of U.S. competitiveness and to better prepare the workforce, A Framework for K-12 Science Education proposes a new approach to K-12 science education that will capture students' interest and provide them with the necessary foundational knowledge in the field."
In order to access the ebook, you'll need to create a username and password. Enjoy!