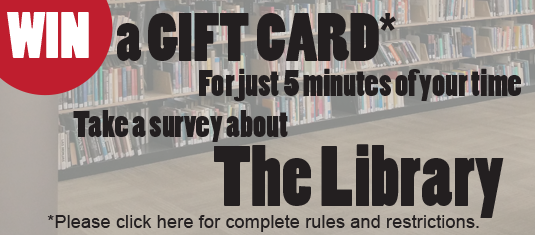 Hearing feedback from our library users is important to us. It's so important that we're willing to ante up with prizes.
Complete the survey and enter your email address, and we'll enter you into a drawing to win one of several Amazon gift cards* :
a $100 card
2 $50 gift cards
4 $25 gift cards
Let us know how we're doing, both good and bad. The survey will help us compare ourselves to academic libraries throughout the country and help to build a dataset used by libraries nationwide. Not only will you help us to become a better library, but you could win!
Take the survey. (LINK available starting April 20.)
*Fine print: library employees, immediate family members of library employees, or other people sharing the same residence (i.e. – a roommate or apartment mate) with a library employee will not be eligible for the prizes. Anyone receiving a prize must be willing to sign an affidavit of receipt. Winners will be announced by Tuesday, May 12.